France is one of the most visited and—more recently—one of the most talked about countries in the world. Some are emboldened to say that this nation, which is home to 65 million people, is the poster girl for Europe. France is the world's fifth largest economy; is a nuclear power; is famed for its internationally renowned cuisine; is home to Christian Dior, Coco Chanel, Yves Saint-Laurent, and other cutting edge fashion houses; is a producer of fine wines and champagne; and last but not least, is a country of intriguing politicians, philosophers, and movements.
Exactly 228 years ago, the French Revolution ignited, fueled by social and economic injustices of the old regime. Ordinary citizens redesigned and razed their country's political landscape. Absolute monarchy and the feudal system were eliminated. Raging mobs burned down buildings. Heads were chopped off and blood was spilled. Lots of it.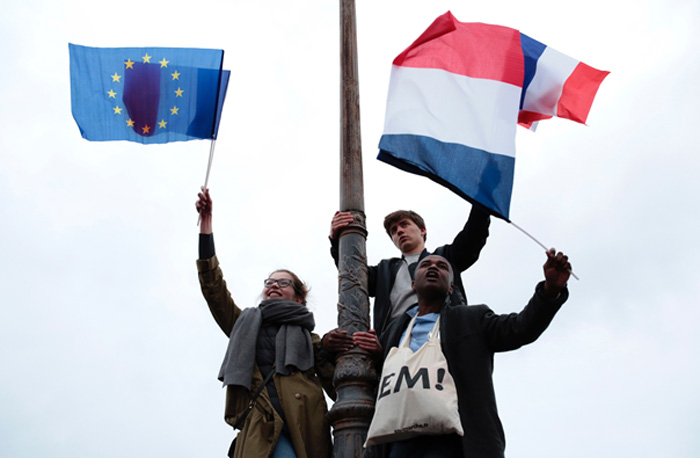 After his swearing in ceremony on May 14, the new French President Emmanuel Macron announced he would bring a youthful "revolution" to French politics, but also to return France to the historic tradition of a strong leader who can "embody the nation." He believes that ever since King Louis XVI's head was chopped off in the Revolution, France has been searching for a leader who represents the "real" France.
Macron—who has a solid background in economics and philosophy—is an elegant orator. "The world and Europe need France more than ever, and a strong France, which speaks out loudly for freedom and solidarity." Twenty-one cannon blasts were heard across Paris as a formal salute for the new leader during the inauguration ceremony.
Macron said he would convince the people that "the power of France is not declining—that we are on the brink of a great renaissance." He was presented with a necklace once worn by Napoleon I as a symbol of his position as Grand Master of the Legion of Honor (a title usually given to the leader of France).
The new French leader is now in command of one of the EU's two most powerful countries—alongside Germany—and will play a major role in shaping the direction of the alliance.
Eyewitness Account: An American in Paris 
RiskHedge spoke to Paris-based News-Decoder's founder Nelson Graves (born in Buffalo, New York) who has worked internationally as a foreign correspondent and bureau chief for Reuters.
Q: In the global arena, why does France matter?
A: Truly, France matters for a large number of reasons—both in the French speaking and non-French speaking world. France has a role in the world: It is the fifth largest economy in the world, it is a nuclear power, and it is a permanent member of the UN Security Council. But along with Germany, [France] is the principal motor of the European Union and therefore, European integration. It's an ex-colonial power with deep roots in Africa and other parts of the world including Southeast Asia and parts of the Caribbean. It wrote the Declaration of Human Rights, which many people look to as the blueprint for the future of the world. The French Revolution and the Enlightenment set the template, the intellectual foundation, for much of what has happened with regards to Western politics. So, France is a symbol, but it is more than a symbol. It has a role to play in the world—on the world economic stage and the world cultural stage. Let's not forget that French culture, whether it is cuisine or luxury goods or cinema, remains very, very important.
Q: What is the mood like in the cafés of Paris after the inauguration of President Emmanuel Macron?
A: There is a sense that the country has made a decision which they are comfortable with—which the majority are comfortable with. Macron represents youth to a certain extent. He is the youngest president in the Fifth Republic. He is an outsider. He did serve in the government of François Hollande, the outgoing president, but he left after a couple of years and then formed his own movement, En Marche! [Forward!]. This is the first president in the Fifth Republic who has not come from one of the two major parties. So, he is a breath of fresh air to a certain extent. Crucially, he very strongly backs Europe, the European Union, and the eurozone. These were positions contrary to his main opponent, Marine Le Pen [of the National Front], who staked out a very controversial set of positions on Europe and on the euro front, which I think backfired. I think she has recognized that. She tried to correct course in the last couple of weeks before the second round [of presidential elections], but was unable to convince the electorate.
So, he [Macron] does represent youth and change. The word that I have heard most often is the word hope. On the political front, there is a certain similarity between what happened in the US in 2008 and what has happened in France this year. Certain dissimilarities, but certainly the feeling that you feel, particularly among young people, is that he represents the potential for something which could represent positive change and perhaps uplift their fortunes. This is one of the differences from the US in 2008—although the US was going through a financial crunch period—the feeling of disillusion among the young in France, and more broadly speaking in many parts of the European Union, is extremely strong. That's something that is very different from the United States, which has a much more vigorous job market for young people. The unemployment rate among young people in France is extremely high and the opportunities are limited. So, Macron does represent a certain feeling of hope for those young people.
Q: What did you make of the images of the inauguration of Emmanuel Macron and the crowd's reaction?
A: I wouldn't characterize it as euphoria. Who can be euphoric in a country which has 10 percent unemployment, a fair amount of social tensions, and has been the target of a number of terrorist attacks in the last few years? Which has just experienced a very difficult presidential election?
Q: One of Macron's many challenges include the battle against terrorism and the state of the economy. Are the French people bracing themselves for another attack?
A: Let's see what happens. Will there be a terrorist attack which could change the [post-election] mood? Most people expect something to happen. That's the type of world we live in nowadays. If and when—we'll see what happens. That is one battle line, but the other significant battle line is the one over the economy.
One of the principal measures that Macron wants to pursue is to loosen up some of the restrictions relating to employment. In the French context, employers face a certain number of guidelines and restrictions on hiring and firing people. He would like to liberalize that. He is going to face resistance. Not only is he going to face resistance from unions, but he'll face resistance on the political front. So that is going to be a huge, huge challenge for him. A third battle line, I suppose in the European context, is Brexit. How will Britain's exit from the EU proceed? The fact that Macron is a strong supporter of strengthening the European Union—not necessarily expanding, it but strengthening it—I think bodes well for anyone in the UK who expects a very easy, painless, and quick exit. Britain is going to be up for a tough negotiation.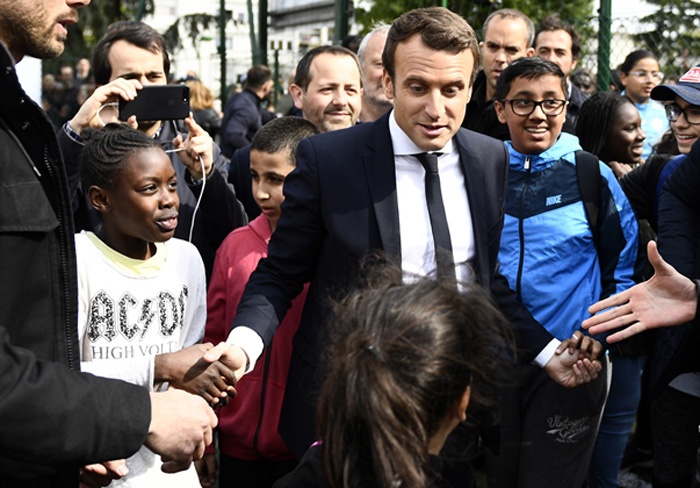 Word on the Streets?
There is no question that Macron is the talk of the town. How did he pull it off exactly? Not everybody voted for him. According to France's Interior Ministry, Macron got 20.75 million votes and his far-right rival, Marine Le Pen, took 10.64 million votes.
Despite her loss, Le Pen's score marked a historic high for the French right. The battle is not over yet. In a concession speech, Le Pen proclaimed that she was leader of "the biggest opposition force" in France and vowed to radically overhaul her party.
In the packed, people-watching cafés of Paris, there are no shortages of modern-day French philosophers—hailing from a variety of backgrounds, sipping espresso or champagne. How will France move forward in a positive manner on the global stage? Is this new leader for real?
One hears the voices from both employed and unemployed citizens as to Macron's pre-election promises. Will he or won't he deliver? He is facing Herculean challenges when it comes to leading a fractured nation, which has been plagued by terrorism, religious and racial hostilities, discontent unions, and high unemployment. And let's not forget, there is the complexity of a potentially unstable parliament after legislative elections in June as well as the on and off "special" relationship between England and France.
Is Brexit Taking the Fizz out of Champagne?
Brexit and the future of the EU is a heavily discussed subject in France these days. Brexit is blamed for taking the fizz out of the 300-year-old champagne industry, which has been beset by declining sales in certain global locations including Britain, which is still the biggest export market by volume. Meanwhile, French champagne shipments to the US, the second-largest export market, have increased.
Macron is a pro-European player, but says he is going to be tough on Brexit. He told the global affairs magazine Monocle that: "It's the British who will lose the most. The British are making a serious mistake over the long term."
Facts About Emmanuel Macron
Thirty-nine-year-old Emmanuel Macron has become France's youngest leader since 35-year-old Napoleon Bonaparte was crowned emperor in 1804.
Since the Fifth Republic was set up by Charles de Gaulle in 1958, no independent candidate without electoral savvy has come this close to the French presidency.
The former economy minister and one-time investment banker is the first president in modern French history who does not belong to the country's two mainstream political parties—the conservative Republicans and the left-wing Socialists.
From 2006 through 2009, Macron was a member of the Socialist party. In France, the two major political parties are the center-right Republican party and the center-left Socialist party.
From 2009 to 2016, Macron stopped associating himself with the Socialist party, declaring himself an independent.
After announcing his bid for presidency, Macron formed his own political movement called "En Marche!" which he has described as being post-partisan, combining elements of both the left and the right.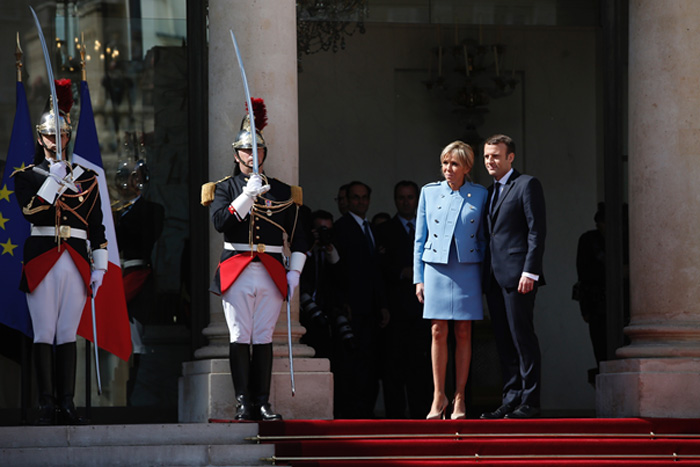 His Views on Women?
Macron met his future wife, Brigitte Trogneux, when she was his drama teacher and a married mother of three. She is 24 years his senior, having met when he was 15 and she was 39 years old.
That is the same age gap between Donald and Melania Trump.
They married in 2007 and Trogneux quit her job at a Parisian high school in 2015 to help her husband.
Macron has promised that more than half the candidates running in his party for National Assembly positions in June will be women, which is reportedly Trogneux's influence.
Defense and Security Expenditures?
Macron wants to raise defense spending to 2% of GDP, up from the current figure of 1.8%. Also, he wants to build 15,000 new prisons and hire 10,000 new police officers. He has said that he wants to introduce on-the-spot fines for drug use and issue orders banning gang leaders from certain neighborhoods.
The Global Arena?
Macron recently shared this with Monocle on the role that France can play with Germany on the global stage.
This is what the new president had to say: 
Paris and Berlin have to reinforce a much stronger partnership that is in line with our common interests. Angela Merkel is well aware of the current dangers and challenges. Germany is becoming a great military power again. Two per cent of its GDP will be spent on defense—more than France, which hasn't happened since 1945. Burdened by its history, Germany cannot handle this alone. France is not strong enough economically to play the role it once had at the international level. Paris must reinforce an independent diplomacy and at the same time, build new areas of discussion and cooperation with Berlin.
Since his inauguration on May 14, Macron has already met up with German chancellor Angela Merkel. He has also stopped by in Mali, in an effort to boost morale with the French troops stationed there and to signal that French international  military engagement will continue. He is also expected to visit the US very soon.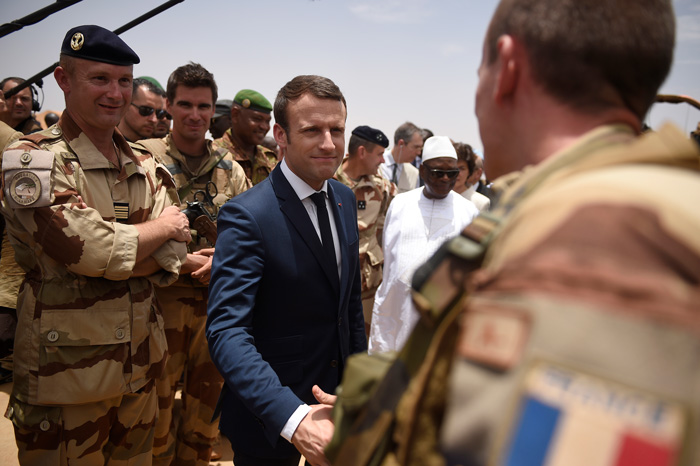 Economic Challenges
France is home to 65 million people. Not all of them have jobs. According to The Economist in a recent piece titled, "The French Election—Time to Decide", "Unemployment has been stuck at about 10% since 2012; for young people, it is still about 20%. The economy is growing slowly and does not yield enough tax to pay for the public services that voters believe are their right."
In a pre-election interview, Monocle asked Macron this question: When viewed from abroad, France's inability to cut its 10% unemployment rate seems incomprehensible?

Macron responded candidly: "We have a system which aims at an economy of recovery, not an economy of innovation. In fact, we are the single largest European country today not to have solved the problem of mass unemployment. We need a system similar to those of Germany and Scandinavian countries. In France, we haven't been able to reach the kind of social compromise needed to create the English-speaking world's model, which tolerates much more inequality. We also have to reconsider the system of unemployment and professional training. It is about rights and obligations; people should not be allowed to refuse a decent job offer if it corresponds to their qualifications."
Immigration? 
On the subject of immigration, Emmanuel Macron says he is all for strengthening the EU's external borders and pushing for additional resources at the European border.
However, he also stated that security would "not be better served by closing national borders," and he pointed out that controls on migration should not be handled on a national level. Macron also said that France's security policies have unfairly targeted Muslims.
National Security?
National security was a key talking point during the presidential race, a hypersensitive issue in a country where more than 230 people have been killed by Islamic militants since 2015.
Prior to his election win, Macron promised that terrorism would be one of his top priorities, stating that: "I will lead a fight against Islamic terrorism at every level. But what they are wanting, the trap they are holding out for us, is the one that you offer—civil war."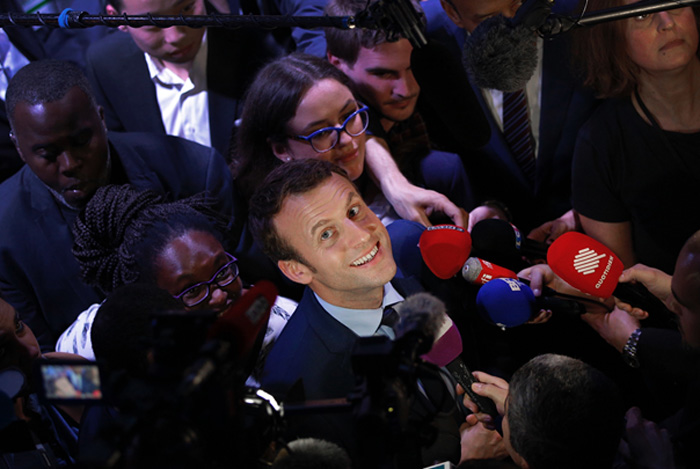 Vive la Révolution!
France is no stranger to revolution. The French Revolution—preceded by the American Revolution (1775–1783)—began in 1789 and ended in the late 1790s with the rise of Napoleon Bonaparte. It was a turning point in modern European history.
Interestingly enough, Macron studied philosophy at Paris Nanterre University. He penned a book, which came out in 2016, titled Révolution: Ç'est Notre Combat pour la France (Revolution: It's Our Struggle for France).
France—past and present—will continue to be a country of philosophers. But does philosophy hold all the answers when it comes to confronting and battling nation-building challenges?
Albert Camus, the French writer and philosopher who was awarded the 1957 Nobel Prize for Literature, wrote:
 "All modern revolutions have ended in a reinforcement of the power of the State." 
Only time will tell how President Macron's youthful "revolution" will fare. Will he or won't he impact Europe and the rest of the world with his new style of leadership? More importantly, will he rise up to the occasion?