There is a new flag flying outside of NATO headquarters in Brussels. It belongs to the tiny Balkan nation of Montenegro, which is blessed with stunning mountains and the pristine waters of the Adriatic sea.
Moscow is not celebrating. The Russians holiday there and have invested in Montenegro—big time—and own high-end real estate across the country. Most of the people working in Montenegro's tourism sector speak Russian fluently. 
Currently, there are at least three weekly flights from Moscow to Podgorica, the Montenegrin capital. Since 2008, Montenegro and Russia have shared a visa-free regime on travelers between the two states.
The Russian-Montenegrin connection
Approximately, 70% of Montenegrins are Orthodox Christians, which to some degree, explains strong links to Russia, also a predominantly Orthodox Christian nation. Until recently, Montenegro had been a loyal ally of Russia in the Balkans. Montenegro was also a rare country in the Balkans to have preserved a level of autonomy during centuries-long Turkish Ottoman rule.
Montenegro, used to be a part of the Socialist Federal Republic of Yugoslavia (SFRY), which collapsed in 1992. The small republic then formed a union with Serbia. As a Serbian ally, parts of Montenegro were bombed in 1999 by NATO which launched air strikes against local "insurgents". There were Montenegrin fatalities.
After the decision to "divorce" herself from Serbia in a 2006 referendum, Montenegro decided to take the road towards Euro-Atlantic integration, despite Russia's attempts to retain economic and political influence.
Russia is not part of the NATO alliance. However, "relations" started after the end of the Cold War when Russia joined the North Atlantic Cooperation Council in 1991 and the Partnership for Peace program in 1994. On paper, there is the 1997 NATO-Russia Founding Act that has "provided the formal basis of relations."
Marking the 15th anniversary of the NATO-Russia Council, a Russian expert looks back in disappointment at how the high hopes for the partnership have been dashed in recent years.
No turning back
On June 5, 2017, the flag of Montenegro became the 29th to adorn the Alliance's headquarters. NATO's last enlargement happened on April 1, 2009 when Albania and Croatia joined.
Montenegrin Prime Minister Duško Marković said that membership brings his country "permanent stability," and NATO Secretary General Jens Stoltenberg said the Alliance would benefit from the country's insight in the western Balkans.
This tiny nation has a population of 630,000 souls. The Montenegrin army has approximately 2,000 soldiers.
Location, location
Montenegro – which means "black mountain" is strategically located on the Adriatic sea, between NATO members Croatia and Albania. The country has deep-water navy bases that could be used for large navy ships and submarines. Montenegro, also shares borders with Bosnia and Serbia.
Montenegro's admission gives NATO a contiguous border along the Adriatic coast.
It also, further diminishes Russia's influence in southeast Europe, and practically, barricades it from the "warm seas" of Europe.
US – Montenegrin relations: The "shove" that went viral
US President Donald Trump's "shove" with the Montenegrin prime minister during a May 25 tour of NATO's new headquarters in Brussels went viral on twitter. Mr. Trump appeared to push himself past Duško Marković, the prime minister of Montenegro, to get to the front of the group of world leaders. I suppose the photo opportunity took precedence.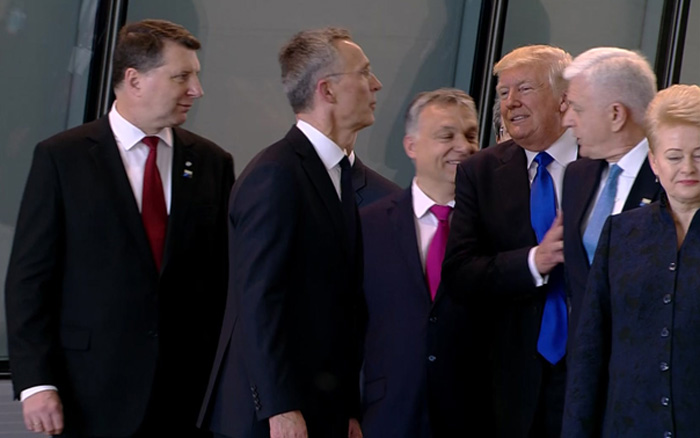 This was Trump's first joint meeting with North Atlantic Treaty Organization leaders.
NATO and the 2% contribution
President Trump, who has previously called NATO "obsolete," has slammed NATO members for not contributing 2% of their GDP to the NATO alliance. According to Mr. Trump, 23 of the now 29 member nations are "still not paying what they should be paying and what they're supposed to be paying for their defense."
Rich countries like Canada are still not ponying up. Meanwhile, Montenegro has announced that 2% is happening.
Trump has stated, over and over again, that many [NATO] nations "owe massive amounts of money" to the Alliance.
Montenegrins divided about joining the NATO club
A July 2015 poll from the Center for Democracy and Human Rights, which received financial support from NATO, found that 36.6% of Montenegrins supported NATO membership, to 37.3% percent against, with sharp divisions between ethnic groups: 71.2% of Montenegrin Albanians and 68% of Montenegrin Bosniaks supported membership, while only 11.3 percent of Montenegrin Serbs did.
Overall, most Montenegrins, disclose that it is better to join NATO to avoid trouble in the future, and to keep the peace. There has been a bitter history of conflict in the Balkans.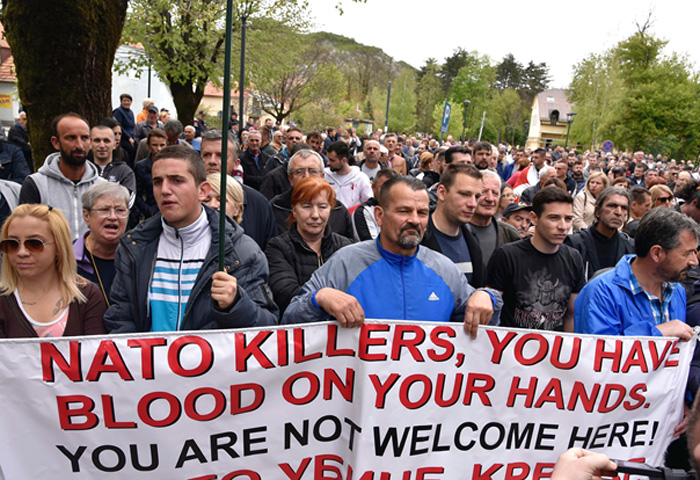 Only 18 years ago, NATO aircraft were bombing targets in Montenegro—then part of a federal republic with Serbia—in a campaign that forced Serbian strongman Slobodan Milošević's troops out of Kosovo.
The playground of the rich and famous
Back in the day, when Montenegro was part of Yugoslavia, this small Adriatic country was well known for hosting the wealthy elite and stars of the silver screen. It was a favorite hideaway for Richard Burton and Elizabeth Taylor and Princess Margaret, Countess of Snowdon—who was the only sibling of Queen Elizabeth II, the reigning queen.
After one of her many visits in the 1960s, Italian actress, Sophia Loren described her Montenegrin experience as "returning to the most beautiful fairytale of my childhood."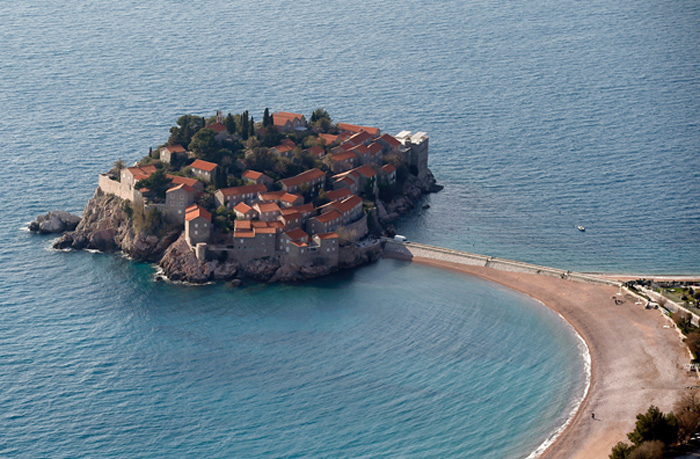 The visit-montenegro.com website has a link to "celebrities." The March 2016 visit of the Prince of Wales and the Duchess of Cornwall features prominently. Harrison Ford was spotted hiking in the mountains of Montenegro last summer.
Celebrities aside: Montenegro joins NATO as 29th ally
At the recent ceremony marking the occasion, NATO Secretary General Jens Stoltenberg underlined that Montenegro's accession to the Alliance contributes to international peace and security and sends a strong signal that NATO's door remains open.
"Today, Montenegro joins NATO with a seat at the table as an equal, with an equal voice in shaping our Alliance."
Russia not happy & what does the future hold?
The Russian government is already urging its citizens not to travel to
Montenegro. Meanwhile, ordinary Russians continue to show up in droves, according to recent tourism statistics.
Moscow has made no secret of its anger at Montenegro's efforts to join both the European Union and the euro currency, especially after it secured membership in NATO.
Boosting NATO's presence in the east and southeast of Europe
As per the NATO website: "An important component of NATO's strengthened deterrence and defense posture is military presence in the eastern and south-eastern parts of Alliance territory. Allies are implementing the 2016 Warsaw Summit decisions to establish NATO's forward presence in Estonia, Latvia, Lithuania, and Poland and to develop a tailored forward presence in the Black Sea region."
According to the official website, NATO is enhancing its forward presence in the eastern part of the Alliance, with four multinational battalion-size battlegroups in Estonia, Latvia, Lithuania, and Poland on a rotational basis.
These battalion-size battlegroups—led by the United Kingdom, Canada, Germany, and the United States—respectively will be robust, multinational, combat-ready forces demonstrating the strength of the transatlantic bond and making clear that an attack on one ally would be considered an attack on the whole Alliance.
It is part of the biggest reinforcement of Alliance collective defense in a generation.
NATO is also developing a tailored forward presence in the southeast of Alliance territory with a land element built around a multinational framework brigade under Multinational Division Southeast in Romania and coordinated multinational training through the Combined Joint Enhanced Training Initiative.
NATO is also increasing its presence in the Black Sea region on land, at sea, and in the air with several allies ready to contribute with forces and capabilities.
Russian Foreign Minister Sergey Lavrov recently announced that Montenegro's accession to NATO was "imposed" on the country by the West, as Moscow also warned of unspecified retaliatory measures against Podgorica.

"This is a purely geopolitical project that does nothing to enhance the security of NATO. It causes extra spending by the Alliance's member states because they will have to incorporate Montenegro's territory in military and technical terms," Lavrov told reporters, according to Russia's TASS news agency.
Is the cold war really over? Well, the reality is that Montenegro has joined NATO whatever Moscow has to say at this point in time. Can the global community deal with an unstable Balkan peninsula? More importantly, will NATO and EU accession bring the stability Montenegro seeks?