In this March 2008 file photo, Libyan leader Muammar Gaddafi, left,  clasps hands with Syrian President Bashar Assad, right, during the
 opening session of the Arab Summit in Damascus, Syria.
After the overthrow of the flamboyant Libyan strongman Colonel Muammar Gaddafi by rebels supported by NATO, Libya continues to be a nation in transition facing an unpredictable future. Google "Libya" and you will find plenty of headlines featuring the words: terrorism, lawlessness, gross human rights violations, smuggling networks, foreign oil workers kidnapped, economic crisis, ISIS attacks, Lockerbie, and more.
Gaddafi seized power in 1969 after a bloodless coup against Libya's King Iris I. He ruled for 42 years, making him the longest-reigning leader in the Arab world. In the 1980s, Libya was one of the world's foremost sponsors of terrorism.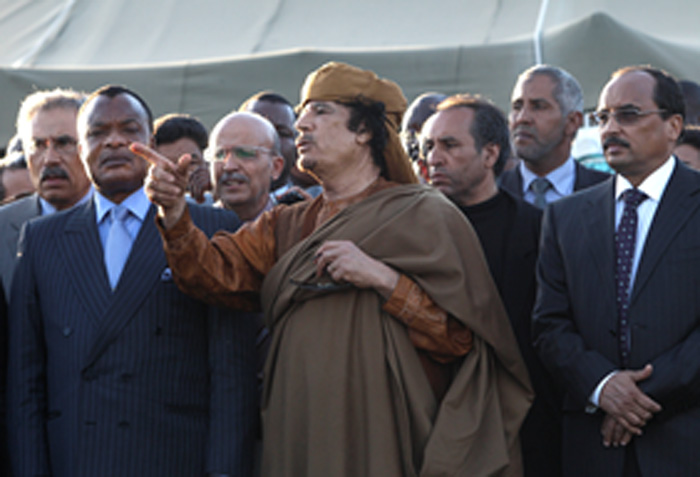 As the Arab Spring gained momentum, many Libyans—and certain foreign leaders—said it was time for regime change. The deposed dictator was captured and killed on October 20, 2011 during the Battle of Sirte—the final battle of the Libyan Civil War. Gaddafi was found hiding in a tunnel west of Sirte (his place of birth) and captured by the National Transitional Council Forces of Libya. He was killed shortly afterward.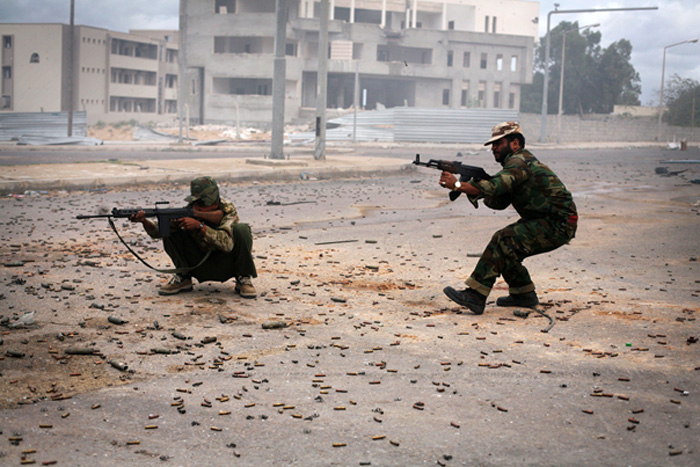 Since the end of the Gaddafi dictatorship, Libya has been facing many turbulent, nation-building challenges. Regime change is "extremely complex and tricky," says a retired Libyan diplomat living in Tripoli who spoke to RiskHedge on condition of anonymity.
The intervention in Libya makes for a good case study in the perils of regime change. In light of the 2011 uprising, engaging in military action against a repressive dictatorship was applauded as the right move.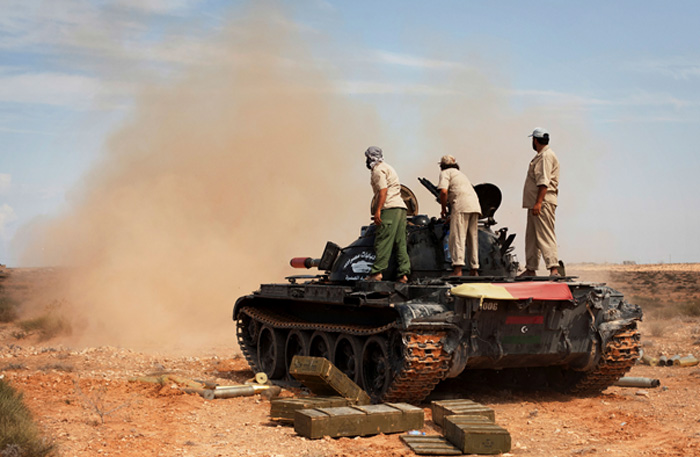 The overthrow of the Gaddafi regime was significant in that it was done in concert between Libyan rebels and European and NATO powers. There was also political support from the Arab League. There was very little use of Western ground forces and there were no Western casualties.
What is everyday life like now?
The former consul who asked to be referred to as "Ibrahim" had this to say: "Today, there are no normal days in my country at all. Libya is in a very, very bad mess. There is absolutely no rule of law and no respect for human rights. Chaos, utter chaos, is the new normal."
Ibrahim predicts that things are only going to get worse in this North African country, which today is home to 6.4 million people. He believes the "Arab Spring" was a complete failure, adding that, "I am confused as to why exactly Libyans changed the regime at this particular time in history. Sure, the people wanted change, but not this."
He fears for his safety daily. "Tripoli is not safe. Many households have a family member who has disappeared. There are lots of kidnappings of Libyans; and foreigners too—especially those working in the oil business—have become targets. Married women and young girls are being snatched off the streets. The crime rate—car jackings, home invasions, drive by shootings, murders—is out of control. Libya is awash with weapons." Some security analysts have referred to Libya as an "arms bazaar."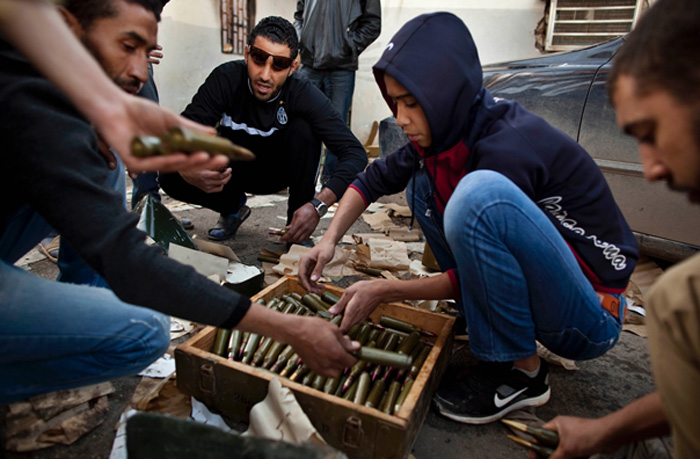 With Africa's largest oil reserves and just over six million people to share the bounty, Libya in 2011 appeared to be set for a promising future. (Oil is the country's primary natural resource.)
Ibrahim says that the average Libyan is not benefiting from a recent increase in oil production. "Libya is an extremely rich country, but ordinary people have become very poor because of all the stealing going on by the various feuding factions and gangs who have overtaken the country. The situation here is very confusing and changes daily. People are tired of all the chaos."
He observes that: "The banks are strapped for cash. There is little foreign currency available officially. Hospitals are in short supply of medicine. The price of food has skyrocketed. There are many beggars in the streets. I am afraid Libyans will be suffering for a long time unless some drastic changes are made."
Libya and the Arab Spring
Bolstered by the other revolts in the neighboring countries of Tunisia and Egypt, Libya's popular uprising against the authoritarian rule of Gaddafi kicked off in February 2011.
What started off as protests against the dictator's rule, quickly descended into an armed conflict as security forces, local to Gaddafi, clashed with protesters—even using warplanes to bomb them.
A word with Gaddafi back in the heyday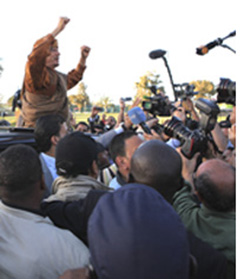 The author of this article interviewed Gaddafi in Tripoli when he was still very much in charge, and one of the first things he declared on camera was: "I am not in power. The power is in the people's hands. The people chose me."
Gaddafi also stated that he was a "true revolutionary at heart."
When asked about the assassination attempts on his life—there were allegedly quite a few—the colonel smiled: "My people, they love me. I have given all the Libyan people a great future."
During the last days of his four-decade rule, Gaddafi warned that if he was defeated, jihadists would conquer North Africa.
In Gaddafi's Libya, Islamic militants were imprisoned, tortured, and starved of influence and resources. He also imposed a set of draconian laws ratified to uphold security. Death was the punishment for anyone who wanted to change the constitution and life imprisonment for dispersing information that sullied the nation's reputation.
Past relations between Libya and the US
For decades, Libya and the US were enemies. The Gaddafi regime funded terror operations against the US, including the April 5, 1986 West Berlin "La Belle" disco bombing, which killed two US servicemen and injured 79 of them. In total, three people were killed and around 230 injured at the entertainment venue, which was popular with American soldiers stationed in Cold War Germany.
Ten days later, US Air Force fighters targeted the capital Tripoli and the eastern city of Benghazi. The operation was widely seen as an attempt to kill Gaddafi who US President Ronald Reagan branded the "mad dog of the Middle East." The colonel survived, but his adopted baby daughter was killed in the bombing. It was reported that at least 100 people died in Tripoli and the Benghazi region.
Libya was a high priority for President Reagan shortly after his 1981 inauguration. Gaddafi was staunchly anti-Israel and had supported violent organizations in the Palestinian territories and Syria. There were also reports that Libya was attempting to become a nuclear power. In addition, there was Gaddafi's occupation of Chad, a country rich in uranium.
The Lockerbie bombing
On December 21, 1988, Pan Am flight 103, which was heading for New York, was destroyed by a suitcase bomb—killing all 243 passengers and 16 crew, along with 11 people on the ground in Lockerbie, Scotland. (Large parts of the aircraft landed onto residential areas of the town.) It became known as the "Lockerbie bombing." Of the 270 total fatalities, 189 were US citizens and 43 were British nationals. Twenty-one other nationalities were represented, with four or fewer passengers per country.
With 189 Americans killed, the Lockerbie bombing was the deadliest act of terrorism against the US prior to the April 19, 1995 Oklahoma City bombing (which was a domestic terrorist truck attack) and the 9/11 attacks.
In 2003, Gaddafi accepted responsibility for the Lockerbie attack and paid compensation to the families of the victims, although he later maintained that he had never given the order for the attack. In December 2003, Libya reportedly agreed to destroy all chemical, nuclear, and biological weapons after "secret" talks with US and British officials.
Benghazi US Consulate Attack
On September 11, 2012, the Islamic militant group Ansar al-Sharia stormed the US Consulate in Benghazi and killed US Ambassador J. Christopher Stevens and three other Americans. Stevens was the first US ambassador killed in an attack since Adolph Dubs was killed in Kabul in 1979.
Prior to the attack on the US special mission, the security situation in Benghazi was steadily deteriorating.
The British ambassador to Libya, Dominic Asquith, survived an assassination attempt in Benghazi on June 10, 2012. Two UK protection officers were injured in the attack when their convoy was hit by a rocket-propelled grenade 300 yards from their consulate office. The British Foreign Office withdrew all consular staff from Benghazi in late June. On June 18, 2012, the Tunisian consulate in Benghazi was attacked by individuals affiliated with Ansar al-Sharia allegedly because of "attacks by Tunisian artists against Islam."
What is the US stance on Libya today? 
According to Reuters in a report from Tripoli dated May 23, 2017: "The US ambassador to Libya [Peter Bodde] pledged Washington's support for its UN-backed government… and urged rival factions to avoid civil war during the first, fleeting visit to the country by a US envoy in nearly three years."
The article stated that Bodde and Marine General Thomas Waldhauser, the top US military commander overseeing troops in Africa, flew into Tripoli for two hours to meet the prime minister of Libya's Government of National Accord (GNA) and other senior officials. The US ambassador is currently based in Tunis with the rest of his mission staff.
"The visit today demonstrates the continued commitment of the United States to the Government of National Accord and to political reconciliation in Libya," Bodde told reporters before returning to Tunisia.
What does President Trump have to say?
US president Donald Trump hasn't been that vocal about Libya, nor Africa for that matter. There has been some uncertainty over US policy on Libya. In April, Trump announced that he did not see a role for the US in Libya apart from defeating the Islamic State.
In an article published in Foreign Policy on April 20, 2017 titled, "Could Italy Get Trump to Care About Fixing Libya," the author Ben Fishman writes: "While Libya will never be at the top of the US agenda, it is Italy's first foreign-policy priority because its vital national interests are at stake in the country—from the migration crisis to energy security."
Fishman asks: "Why should Trump care at all? He could cynically use Libya as a persistent symbol of President Barack Obama's foreign policy 'failures.'"
Still, there has been some progress, communicates Fishman. "Last year, the Islamic State suffered a major defeat in Libya when local forces, with the assistance of US air power, drove the jihadis from their safe haven in Sirte. The Islamic State retreated to Libya's vast southern desert, but remains a threat… [and] thrives in ungoverned spaces and will strengthen if the battle continues between the two main factions in Libya—those who now support the UN-backed Government of National Accord (GNA) in Tripoli and Misrata and those in Libya's east backing General Khalifa Haftar, who refuse to recognize the unity government. This ongoing political conflict creates a security vacuum that the Islamic State exploits."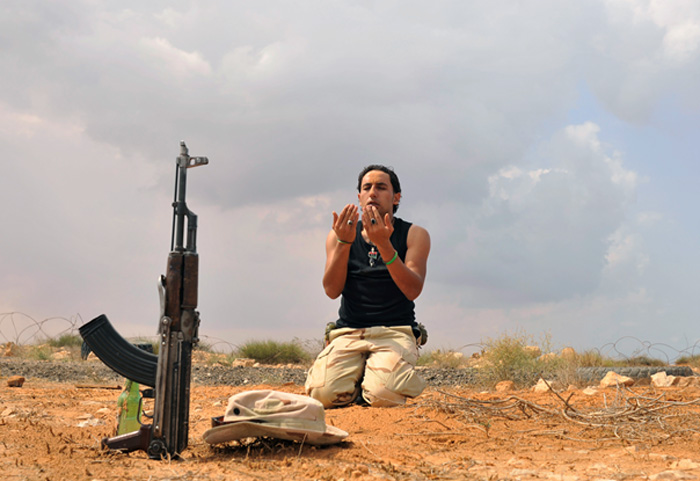 The US has carried out several air strikes in Libya since 2015.
The UK and France also have special forces operating in Libya. Where and what they are up to exactly is not public knowledge. Three French soldiers died in July 2016 when their helicopter was shot down by militiamen.
Libya's migrant and refugee crisis
The end of the Gaddafi regime also signaled the end of the dictator's tight security apparatus, which monitored and kept a lid on trafficking routes through Libya. After the 2011 uprising, security started seriously disintegrating.
Today, warring militias operate along Libya's lengthy and porous desert and sea borders, making good cash by transporting humans, weapons, drugs, food, and gasoline. Over the past six years, the Egyptian-Libyan border has seen major smuggling operations—which have become increasingly more sophisticated—despite attempts by Egyptian authorities to halt the activities.
Italian authorities continue to warn the international community that "terrorists" are spilling into Italy and the rest of Southern Europe arriving on boats coming from Libya.
A report from the independent advocacy organization Refugees International outlines that: "Crossing from the Libyan coast to Italy is currently the major route for refugees and migrants seeking to reach Europe. It is the deadliest migration route in the world, with more than 1,500 people recorded as dead or missing between January and May 2017."
The report states: "As Europe faces its largest movement of refugees and migrants since World War II, the majority of refugees and migrants are reaching its borders by crossing the Mediterranean Sea. While the majority of refugees and migrants arrived in Europe by crossing the sea between Turkey and Greece in 2015 and early 2016, the main route is currently between Libya and Italy."
Massive political and security crisis
According to a recent report by Human Rights Watch: "Libya's political and security crisis continues as three authorities, including the Tripoli based UN-backed Government of National Accord, compete for legitimacy and control of territory and of vital institutions. Continuing armed clashes have displaced hundreds of thousands of people and interrupted access to basic services, including fuel and electrical power. Forces engaged in the conflict are guilty of arbitrary detention, torture, unlawful killings, indiscriminate attacks, disappearances, and the forceful displacement of people. Hundreds of thousands of migrants and asylum seekers, including children, who flock to Libya, mostly en route to Europe, experience torture, sexual assault, and forced labor at the hands of prison guards, members of the coast guard forces, and smugglers."
What do Libya's neighbors have to say?
On the security front, Libya's neighbors certainly have had a lot to contend with in light of a spate of terror attacks including strikes on places of worship.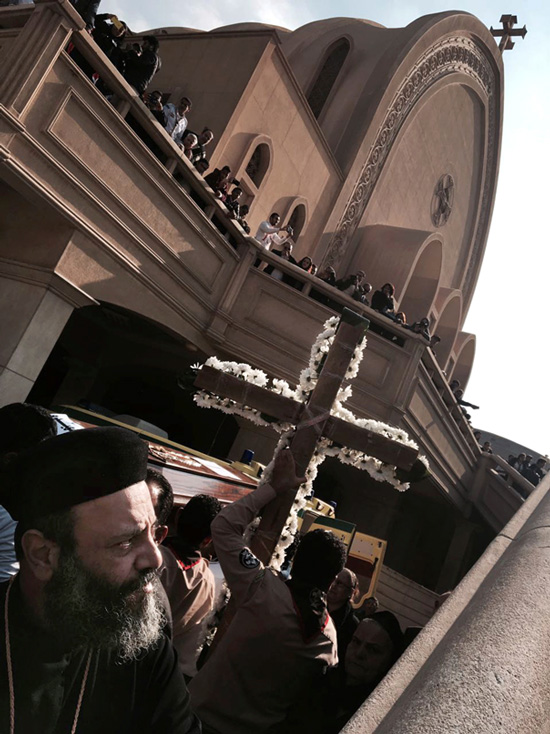 On June 6, Reuter's reported that: "Libya's neighbors Algeria, Egypt, and Tunisia have agreed to push for political dialogue to end the crisis in the North African country and rejected foreign interference or any military solution."
The "Algiers declaration" came after Egyptian jets in May carried out repeated air strikes targeting camps for Islamist militants inside Libya who Cairo says were responsible for attacks on Egyptian Coptic Christians.
The ministers from the three North African countries said they were focused on the "preservation of territorial integrity, sovereignty, and unity of Libya."
What does the future hold?
Six years ago, after the downfall of Gaddafi's regime, there was a "dream" of a peaceful, united, and democratic Libya.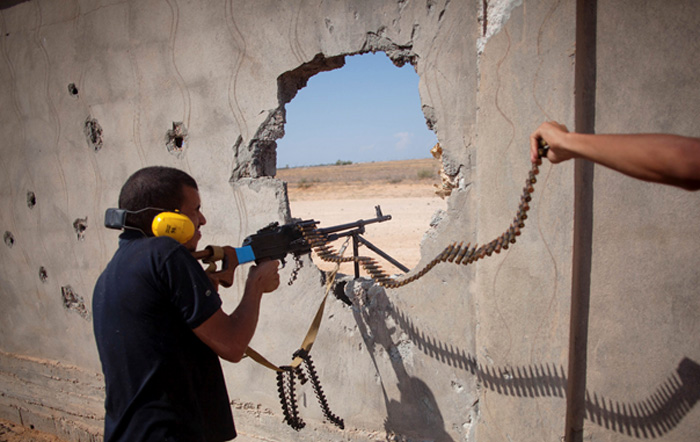 According to the former envoy Ibrahim, the future of Libya remains uncertain. "There is a serious lack of optimism. Fear is a factor in people's daily lives. For ordinary citizens, life is now a battle for survival."
Some Libyans say that life was better under Gaddafi. Meanwhile, others opine that anything is better than living in a brutal dictatorship; and that they are willing to endure the long and challenging road required to build a new Libyan nation.